The new year has now arrived, and with it the new habits brought about by the pandemic. Among these, we remember smart-working, which has allowed most companies to be able to continue their business despite the Covid-19 emergency.
One of the positive aspects of smart-working is flexibility, thanks to it, it is possible to work remotely. We can manage our time better and transform our home into a new workplace.
In this article we want to give you 5 practical and simple tips to recreate a perfect office where you can work from home.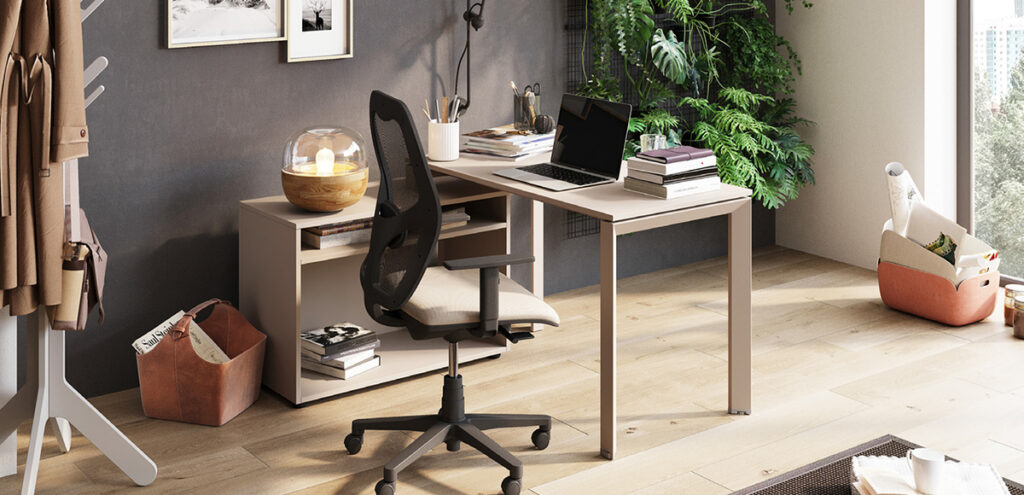 1. The light
First, we must decide where to place our workstation and opt for a room, a corner of our home that is as illuminated as possible; obviously the ideal would be to have natural light. As the light coming from the window gives more warmth and positivity than the artificial one. Where this is not possible, we recommend bulbs with a warm and relaxing light and avoid LEDs that have cold light and tire the eyes. After choosing the position of our workstation, let's move on choosing the furniture that must be comfortable and functional.

2. The desk
As for the desk on the market, there are different models, materials, shapes and styles, it is up to us to choose according to our tastes and habits following 3 criteria: material, size, shape.
Regarding the materials, there are usually two options: for a simpler furniture we can choose between the different varieties of wood while if you want a refined furniture we will opt for glass which can be of two types: transparent or satin.
The size and width of the top are important as well, while the shape of the desk can usually be rectangular or sinuous. Additional drawers can also be added to the desk to ensure greater order.

3. A natural environment
It is also important to recreate a natural environment, many psychological researches in fact sustain that being in contact with nature improves our mood.
So the colors we choose also play an important role. We advise you to surround yourself with green and blue, two colors that convey harmony, well-being and therefore have a positive effect on productivity.
Our suggestion is to color the walls blue and to equip yourself with plants that, in addition to coloring the room with green, give a sense of calm and perfume. Some plants such as sanseveria have even the ability to counteract radiation from electronic equipment.
4. Order and cleanliness
Fourth suggestion: in order not to waste time it is essential to keep our workstation tidy and clean; an orderly space has the power to keep our mind focused on achieving goals. Therefore equip yourself with containers, drawers and cases to store all the work tools.
5. The chair
The choice of the chair that must be ergonomic is fundamental. It allows you to maintain correct posture and also helps those who work from home to safeguard their health.
On the market there are various models that differ in color, shape and accessories.
The essential characteristics of a chair are:
the castors used to move quickly in all directions.
the armrests which are useful for supporting the arms and avoid column fatigue.
the ergonomic backrest always useful to maintain a correct posture.
We recommend, especially if the chair is used by several different people, to use a breathable material that can be removable and washable.
As for the material of the chair structure and the base, it must be a resistant material with high mechanical performance, such as technical plastic or aluminum, to ensure maximum strength and durability.

Come and discover all the items that Grendene has designed for smart-working.